Clarion Awards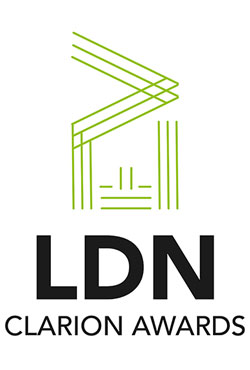 The EVCOM Clarion Awards celebrate true excellence across cause-driven corporate film, live events and experiences. 
The EVCOM Clarion Awards 2022 took place in the first half of the year. Shortlisted agencies and individuals were invited to attend an awards ceremony with a focus on sustainability, where thought leadership was shared, winners announced and clips from the winning projects played. You can view the EVCOM Clarion Awards shortlist here, and the list of our winners here. You can read our writeup of the ceremony and the Summer Party which followed it here.
Should you be interested in sponsoring an awards category at the EVCOM Clarion Awards in future years please get in touch with Claire, Executive Director. 
You can find out a bit more about the 2022 awards below:
Our range of categories recognised work that promotes diversity and inclusion, social welfare and educational initiatives. We called for the most creative and innovative content in this arena, demanding evidence of best practice and professional excellence.  
In recent years we have seen the resurgence of the Black Lives Matter movement, we have felt the continued force of the climate crisis, we have watched our NHS rise to the challenges of Covid-19 and communities struggle under its impact. Never before has it been so important to recognise creative work that puts these issues centre stage. 
Projects and events published/ delivered after the 1st March 2021 up until 15th March 2022 were eligible for entry. You can find our Guide to Entering here, complete with FAQs and advice.
Entry costs were as follows:
Member: £150 (+VAT)
Non-Member: £250 (+VAT)
Freelancer: £100 (+VAT)
Find out why our Exec-Director and previous winners think you should enter:
Key Dates
1st Feb 2022: Entries Open for the EVCOM Clarion Awards
21st March 2022: Entries Close for the EVCOM Clarion Awards (following deadline extension)
17th May 2022: EVCOM Clarion Awards Shortlist Announced and Ceremony Tickets On Sale
12th July 2022: EVCOM Clarion Awards Ceremony
2022 Categories
In 2020, we saw the two sectors that EVCOM represents (live and film), come together through the growth of virtual and hybrid in response to Covid-19. In reflection of this, and due to the nature of the work produced in 2020 and 2021, we have decided to make some exciting changes to the format of the EVCOM Clarion Awards. Instead of work being judged by one of two distribution channels (Live and Film) we will be looking at ALL work that answers to the over-arching theme of the category. We are therefore calling for work encompassing film (live action and/or animation), documentary, branded content, live events, virtual events, hybrid events, experiences, campaigns and collaborations, including projects that have pivoted in any way.
Juries will be made up of members from Event Agencies, Film Agencies, Clients, Suppliers including technology platforms, to ensure the full spectrum of expertise is brought to the process. We whole heartedly encourage you to embrace these changes and demonstrate the great work that has been made over the last 12 months to promote these worthy categories.
Environment – For work (live and film) that successfully and dynamically raises awareness of the current environmental issues affecting our planet.
Health and Wellbeing – For work (live and film) that raises awareness of medical issues, mental and physical, to promote health and general wellbeing.
Education and Training – For work (live and film) that educates targeted audiences in the arenas of health and safety, diversity, environmental initiatives and social responsibility.
Social Welfare – For work (live and film) that encourages social awareness, raising social issues to vital prominence.
Brand Communication – For work (live and film) that promotes the brand identity of a charity or commercial company with strong CSR credentials.
Innovation – For work (live and film) that engages audiences with social issues in a unique and original way.
Diversity and Inclusion – For work (live and film) that promotes tolerance, diversity and inclusion.
Celebratory – For work (live and film) that celebrates CSR, health, education, social welfare, diversity and more.